Mavrik Joos charts his own course.
Hodophile
[/ˈhoʊˌdoʊfaɪl/]
Part of speech: noun
Origin: Greek
One who loves to travel
A traveler with a special affinity for roads
A 2014 Wayzata High School graduate's career as a social media influencer began when he was around 11 years old making dolphin noises on YouTube. The Plymouth native's silly video turned viral with more than 60,000 views. Once he was around 24 years old, his platform took off. Now, at 26, Mavrik Joos has millions of followers on various social media platforms and travels the world doing what he loves to do—entertain. "I've always been an entertainer at heart," Mavrik says. "I like to entertain friends or people I'm hanging out around."
Mavrik, or Mav, as he's commonly called, took time out of his busy travel schedule to catch up with people from his hometown and offer insight into some of his adventures. His most recent excursion was driving the Alaskan Highway, which was a 3,200-mile trip from Duluth. (The highway was built during World War II to connect the contiguous United States to Alaska across Canada.)
How exactly does a person go from making dolphin noises to becoming an influencer who travels the world? During the early days of surfing the web, Mav recalls stumbling across a fingerboarding commercial shot in Europe. Intrigued by the potential of doing tricks on a fingerboard, which is a small-scale working replica of a skateboard, Mav joined a YouTube group of people who made fingerboarding videos. "That's what sparked me to realize YouTube could be a career," he says, adding he's won several fingerboarding contests and hosted his own well-attended events.
As his YouTube footprint started to grow, Mav began educating himself on how to monetize his channel. "I was pushed to learn more about cameras, storytelling and keeping people entertained," Mav says. But it wasn't until a trip during his early years in college that got Mav thinking outside the box.
Growing up, Mav took several vacations with his family, which he has fond memories of, but he realized they followed a traditional travel pattern. On a trip to California with his college roommate, Mav stayed on a sailboat and spent the days surfing. "It was my first vacation that felt like it was different," he says. "The guy we stayed on the sailboat with would camp out of his truck and stay anywhere he wanted. He really opened my eyes to unconventional ways of traveling and living."
Mav's videos range from short clips of him camping out of a truck in bitterly cold weather to 20- to 30-minute documentaries of fishing in a new lake or making new friends. Regardless, he says he believes his audience enjoys accompanying him on his adventures. "Not everyone is into camping, fishing, cooking or the other things I do, but they find something in the content to grasp onto," he says. "In some of my videos, I'm inadvertently telling stories of pushing through doing something people say you can't do … I'm doing it."
Bringing his viewers along for his journeys serves as encouragement to live out their dreams, no matter how wild they may be. Knowing he has people watching his travels unfold helps keep him company on the road. "There are just as many moments of feeling lonely, [being] crammed [into] spaces and having a sore back as there are [experiencing] beautiful landscapes or an awesome meal," Mav says. "It's worth it, but you have to be willing to endure some sort of discomfort to experience those things."
While most of Mav's travels are highlighted in his social media videos, there are a few situations that have stood out over the years, one of which he shared exclusively in this interview. During a 2021 trip to Mexico, Mav stopped in the small town of Punta Cabras to purchase firewood from a local resident. Though he admits his Spanish-speaking skills aren't the best, Mav was able to drum up a conversation with the homeowner, who offered him Wi-Fi access.
"There I was, sitting in the driveway, using the Wi-Fi, and all of a sudden there was a knock on my window," Mav says. He looked up to see a teenage girl, grinning from ear to ear. The next thing he knew, the young stranger was pointing to the screen on her cellphone, which had Mav's Instagram pulled up. "She was asking if it was me and motioned to take a picture with me," he says. "That was one of the craziest moments to me. This town was so small, and she knew who I was."
In addition to traveling, Mav also has a self-titled merchandise line. Prior to a YouTube career, he ran an e-commerce website for Thorne Bros Custom Rod & Tackle in Blaine, giving him some knowledge of how clothing retail works. "I like online sales and entrepreneurship stuff," he says. Mav was able to translate that experience into developing his merchandise line, Mav, featuring outerwear. He notes that he's building a team to develop custom products. "We're getting our first samples of outdoor jackets, base layers and outdoor pants," he says.
With his in-the-field experience, Mav doubles as a product tester. "It's nice to be the field tester and also the business owner," Mav says. "I'm a product junkie. I'll submit to anybody's great marketing. If the product looks like it'll make my life easier, I will 100 percent buy it. That's my goal with this line … I have a great team of designers, and I'm the lucky one to get my name on it. It's really cool."
When discussing goals, Mav says his current focus is doing whatever makes him happy. "When I focus too much on what I want later on in life, it puts pressure on what I'm doing right now," he says. "To be honest, I'd rather enjoy my life, and whatever happens, happens. I'm doing this for as long as it's enjoyable and fulfilling for me."
When Mav looks back on how much he's accomplished in the past three years, he says he knows the young teenage YouTuber he once was would be proud of him. "I feel very fortunate to build what I have," he says. "I'm the person I used to watch and dream about being one day."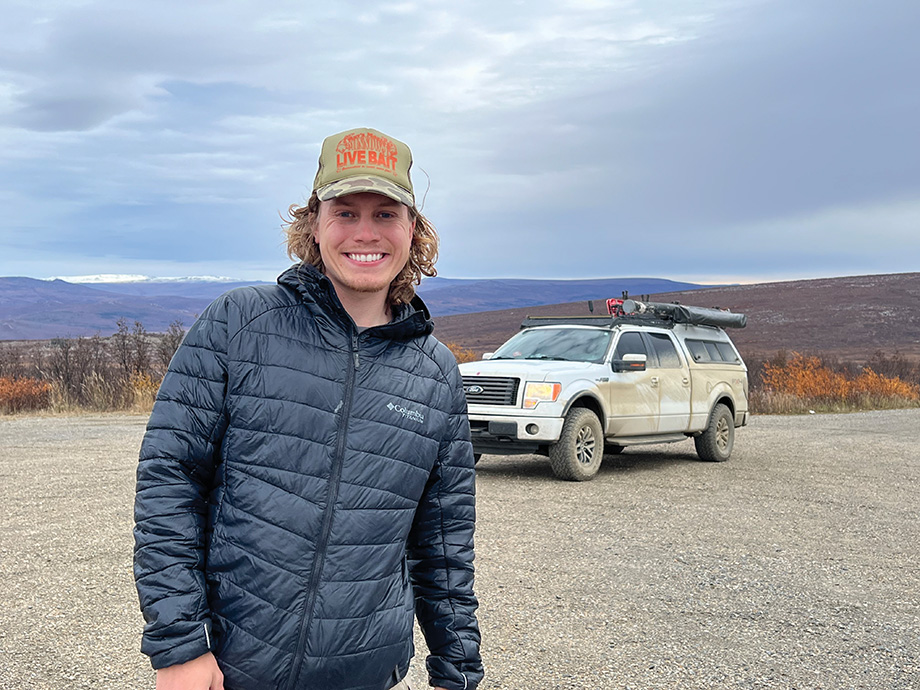 So, what message does he have for people watching him? "Find something you're passionate about, and follow it," he says. "Try not to care so much about what other people are doing or thinking. If you believe in something and have a want to do it, explore it."
Destination: Go
Who better to make travel recommendations than Mav? Consider some of his top picks when planning your next adventure.
1
Dalton Highway,
Alaska
2
Bahia de Los
Angeles, Mexico
3
Phippsburg,
Maine
4
Grand Marais,
Minnesota
5
Golden,
Colorado
Mav Made It
YouTube: Mav
Instagram: @mavrikjoos
Instagram: @mav.outdoors (clothing brand)